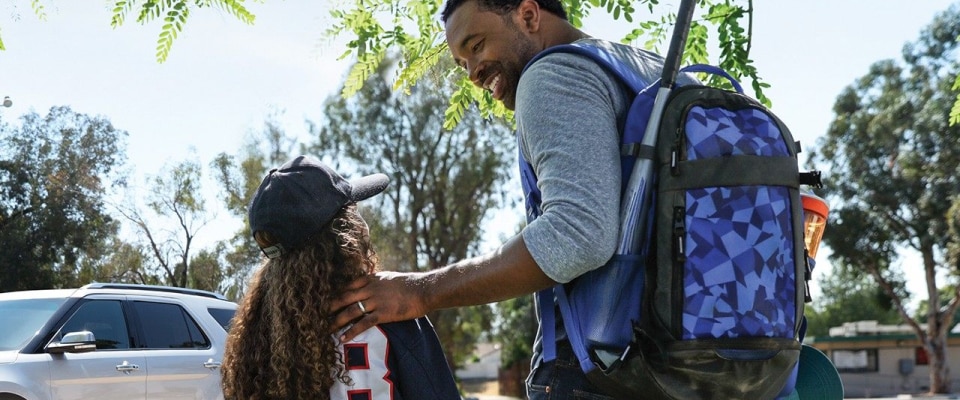 Jack Demmer Ford Charitable Giving
In 2018 Jack Demmer Ford initiated a progrem designed to support our community the way you have all supported us! Every month we pick a charity that has been nominated through our facebook page to receive a check for $500, as well as Logo placement and/or recognition within our website for one month.
Any non-political charitable orginzation with a qualifying IRS 501c3 designation is eligible to participate or be considered for a support as part of this program.
To learn more, visit our offical rules page to get started.
View Rules
Contact Us
Congratulations to our monthly charitable giving winners, FDDR Ziggy Feeding Detroit ! They will use their charitable winnings to help feed and cloth families in the Detroit area. Thank you FDDR for your outstanding work in the Detroit community!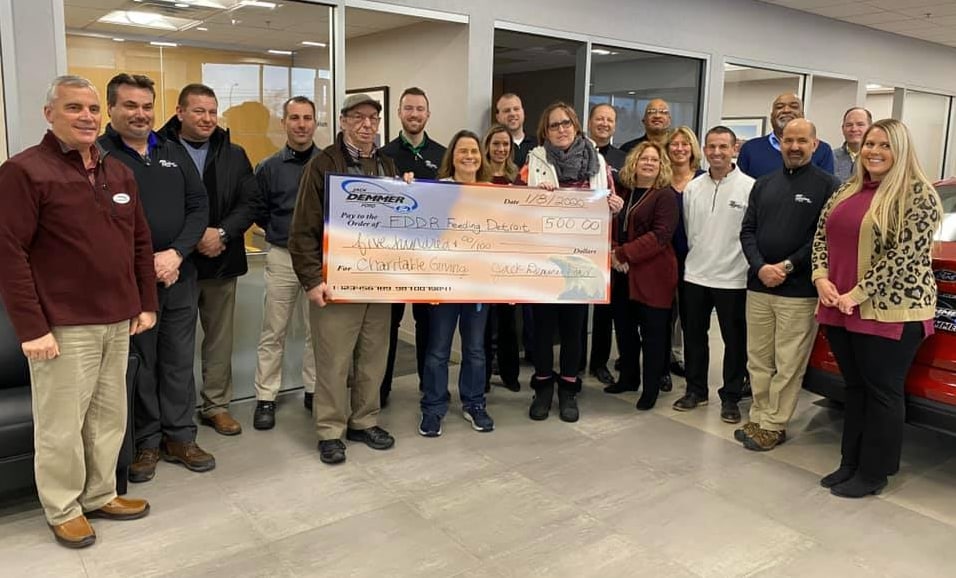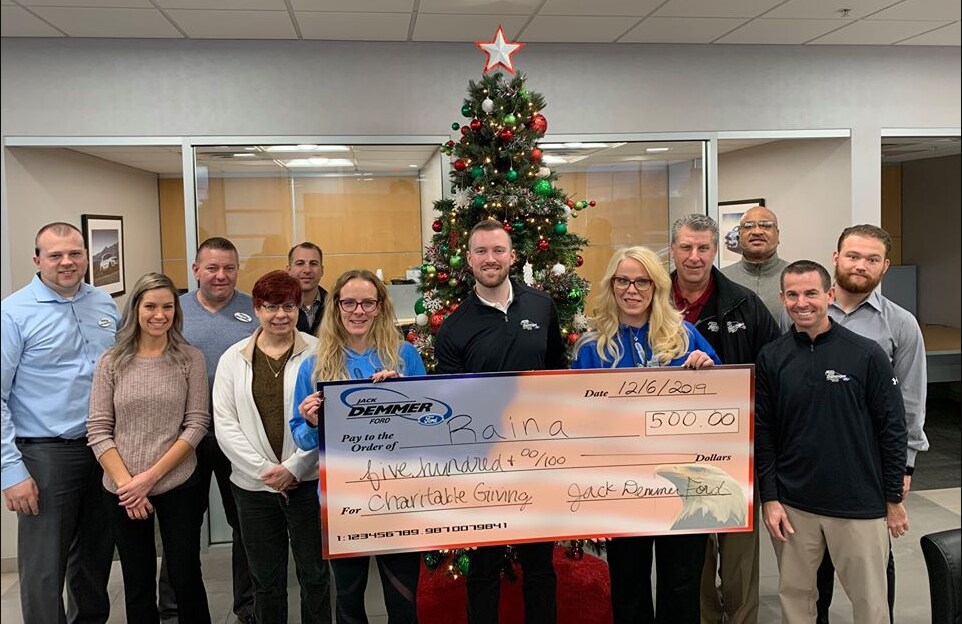 November 2019 Winner: RAINA- Reaching ALL In Need of Assistance
Congratulations to our November Charitable Giving winner, RAINA- Reaching ALL In Need of Assistance. This morning volunteers joined us to pick up their $500 check which will go towards helping families in need get through the holiday season. Thank you RAINA for all that you do!
Congratulations to our October Charitable Giving winner Adopt A Pup! Adopt A Pup has taken over 600 dogs into their care in the last handful of years and have placed them all in loving homes. This morning Angela brought in 4 month old Brooklyn who is looking for a forever home. Visit the Adopt A Pup Facebook page for more information. Our funds will go towards vet bills which Adopt A Pup normally covers on their own.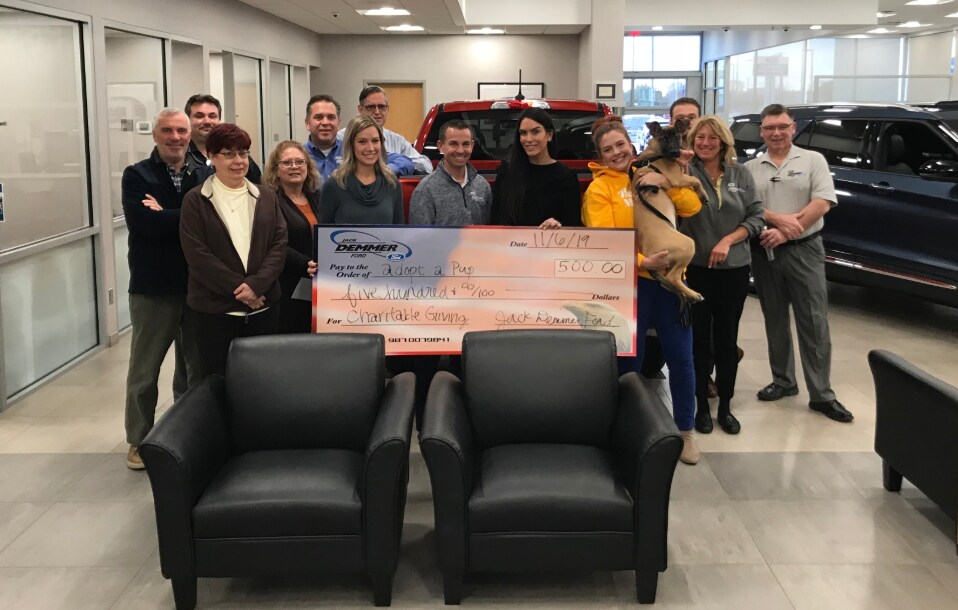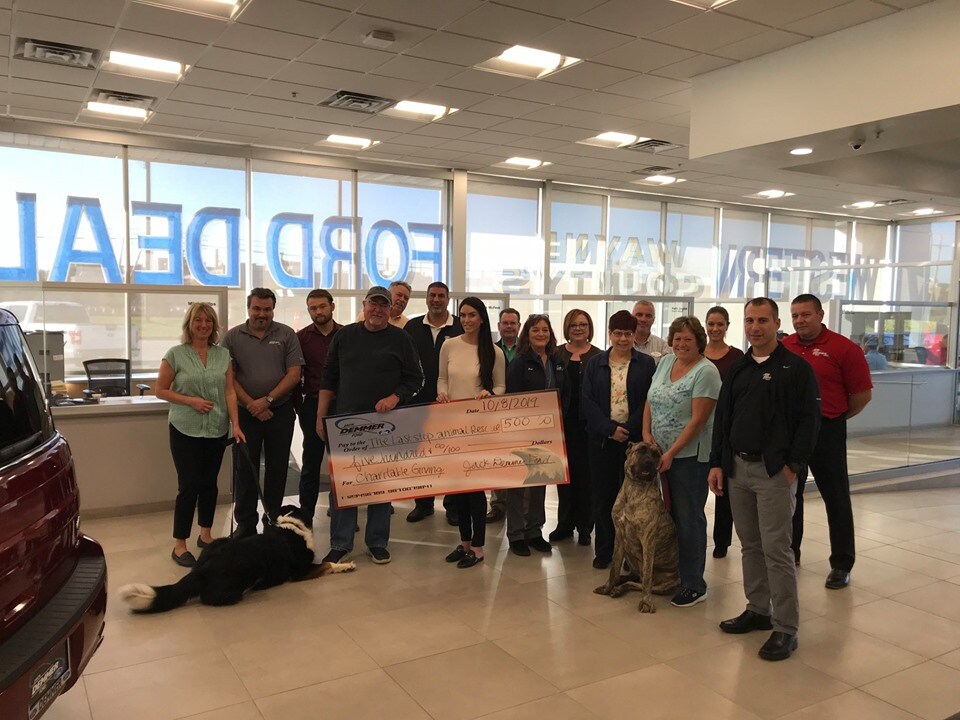 Congratulations to our September Charitable Giving Winner, The Last Stop Animal Rescue and Sanctuary. This morning Sue & Tom joined us with dogs Shrek & Bailey to receive their $500 and let us know about all that they do.
They take in all sorts of animals including dogs, pigs, cats, mini horses, cows, ducks and more to live out their lives at the Sanctuary being cared for like they deserve to be. Please give them a "like" & notify them via Facebook if you know of an animal in need of a better home.
Congratulations to our August Charitable Giving Winner, Great Lakes Bully Brigade. Thank you to Jackie & Tracy for coming in this morning to educate us on all that you do. They are an animal rescue based out of Southgate that rescues unwanted and stray dogs without breed prejudices. Their passion for animals was evident & we are so happy to be able to help out such an amazing cause.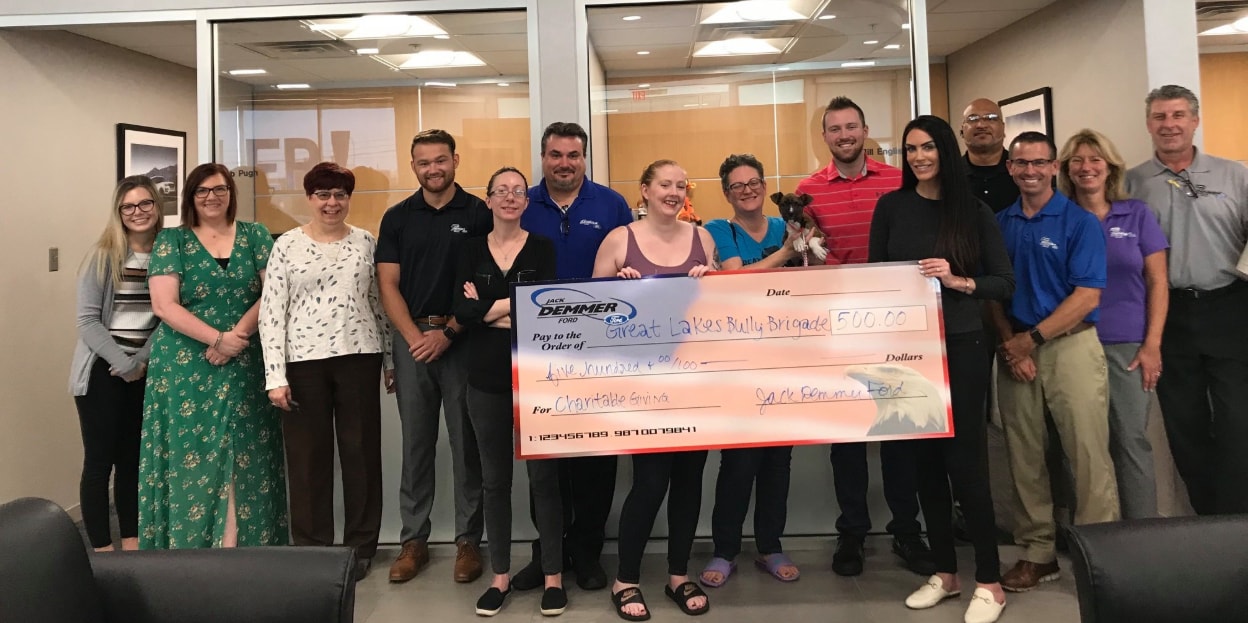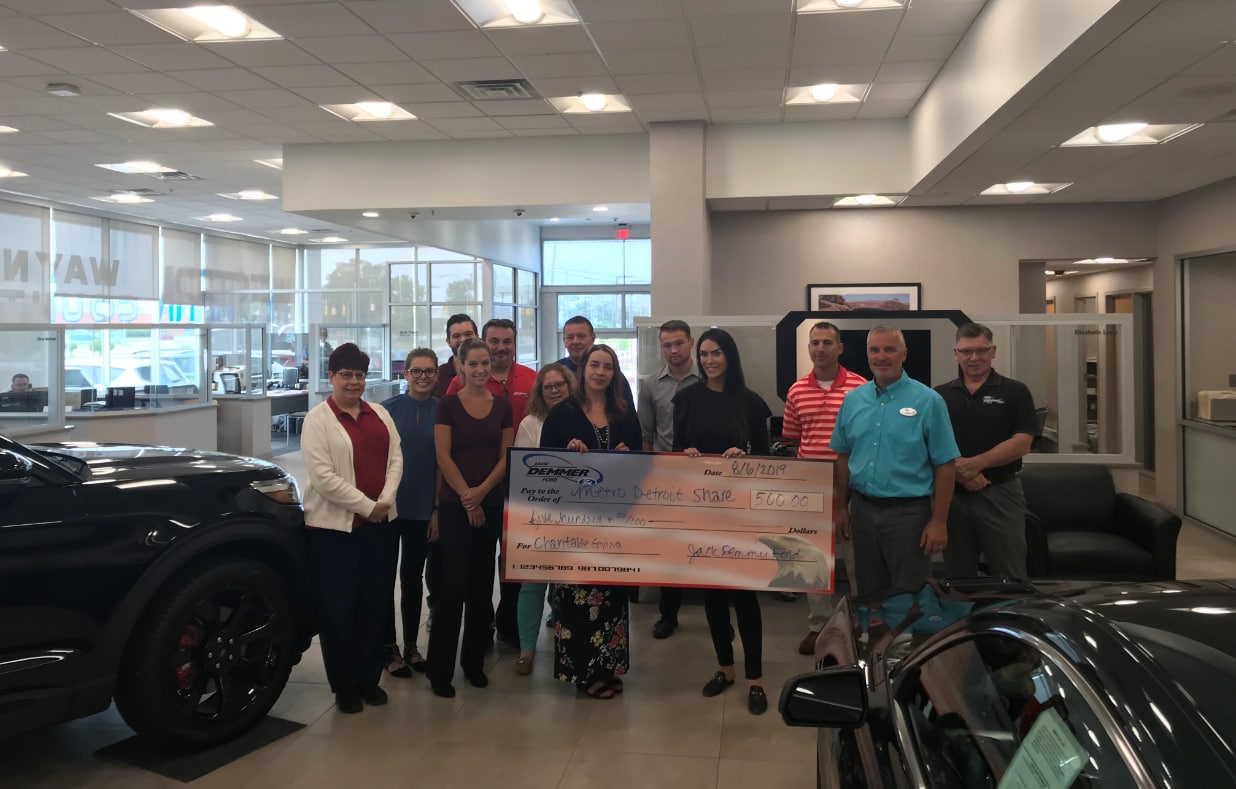 July 2019 Winner: Metro Detroit Share
Congratulations to our July Charitable Giving Contest Winner Metro Detroit Share! Metro Detroit Share provides support to families who endure the loss of a baby during pregnancy or infancy. They offer support online, in meetings and a variety of other services. 1 in 4 pregnancies unfortunately end in loss.
Angie from MDS educated our team and gave us a few helpful pieces of information: Simply say you are sorry to a family who have experienced loss. Bring them meals, offer to take care of their errands/chores & offer an ear to listen. We encourage you to like their page & share them as a resource to anyone who may need it.
June 2019 Winner: Mimi's Mission
Congratulations to our charitable giving winner Mimi's Mission! Mimi's Mission has helped over 7,000 Downriver families since 2015 who need immediate assistance that are often times experiencing temporary hardship. We encourage you to visit their website to learn more & see how you can help!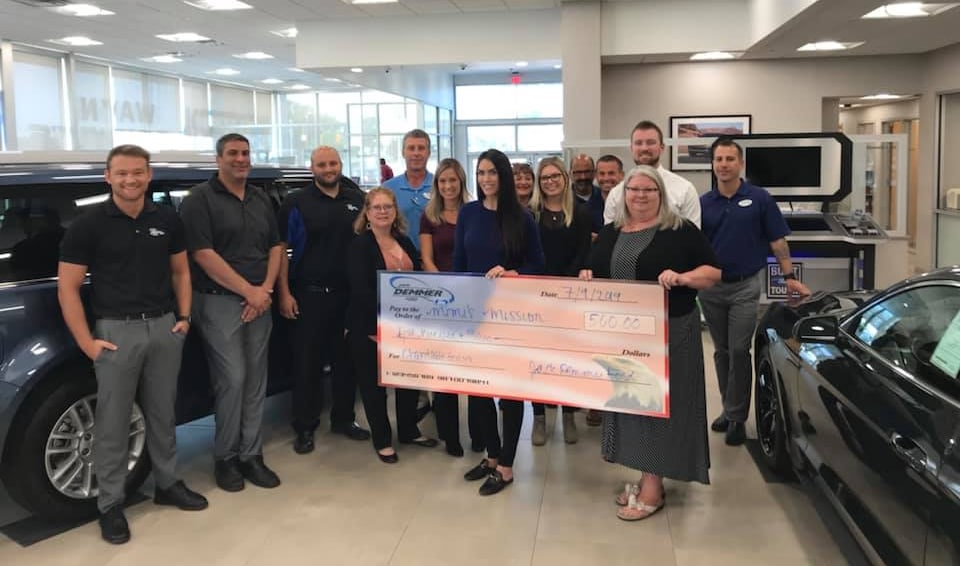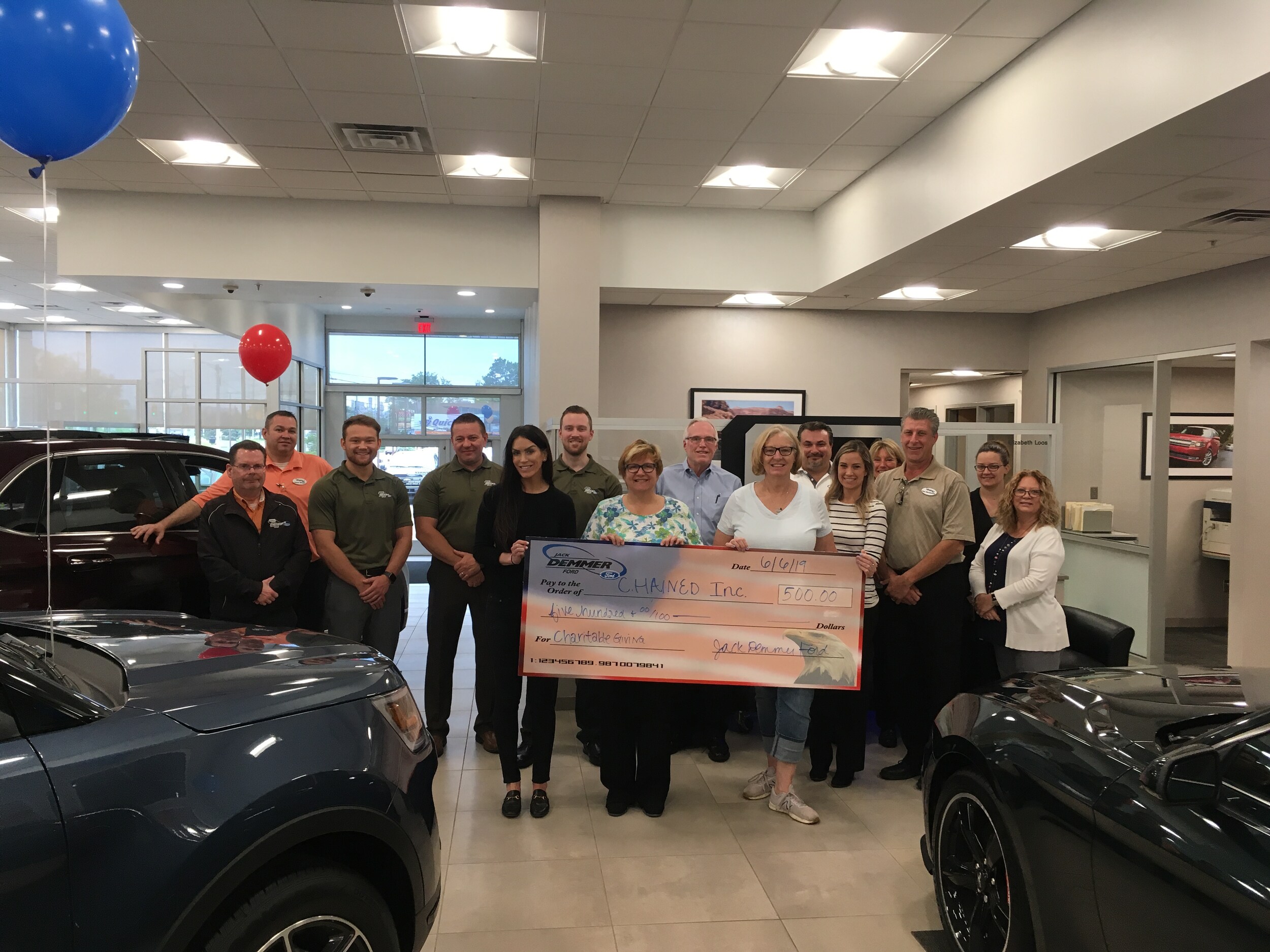 May 2019 Winner: C.H.A.I.N.E.D. Inc.
Congratulations to our May Charitable Giving winner, C.H.A.I.N.E.D. Inc.!This morning we presented Michelle & Laura from C.H.A.I.N.E.D. Inc. with a check for $500 which will go towards medical costs for the dogs in their care. Their mission is to enhance the lives of dogs who are chained outside in the SW Detroit & Downriver communities by providing insulated houses, straw, food, spray/neuter assistance, resources and owner education.
We are happy an organization like C.H.A.I.N.E.D. Inc. exists & even happier that we are able to help them in their mission.
April 2019 Winner: Providing For Paws
This morning we presented Nadine from Providing for Paws with a check for $500. Providing for Paws mission is to rescue neglected, abused and sick animals, or animals that have been displaced from their home. They frequently work in communities that have a high rate of stray animals such as Detroit. Providing for Paws is commonly in these areas and working to educate owners with animals in bad situations, where they often find strays that come to them very neglected or abused. Our donations will go towards medical expenses for kittens & puppies. Please visit the Providing for Paws Facebook page to learn more. We are happy to be able to assist such a worthy cause!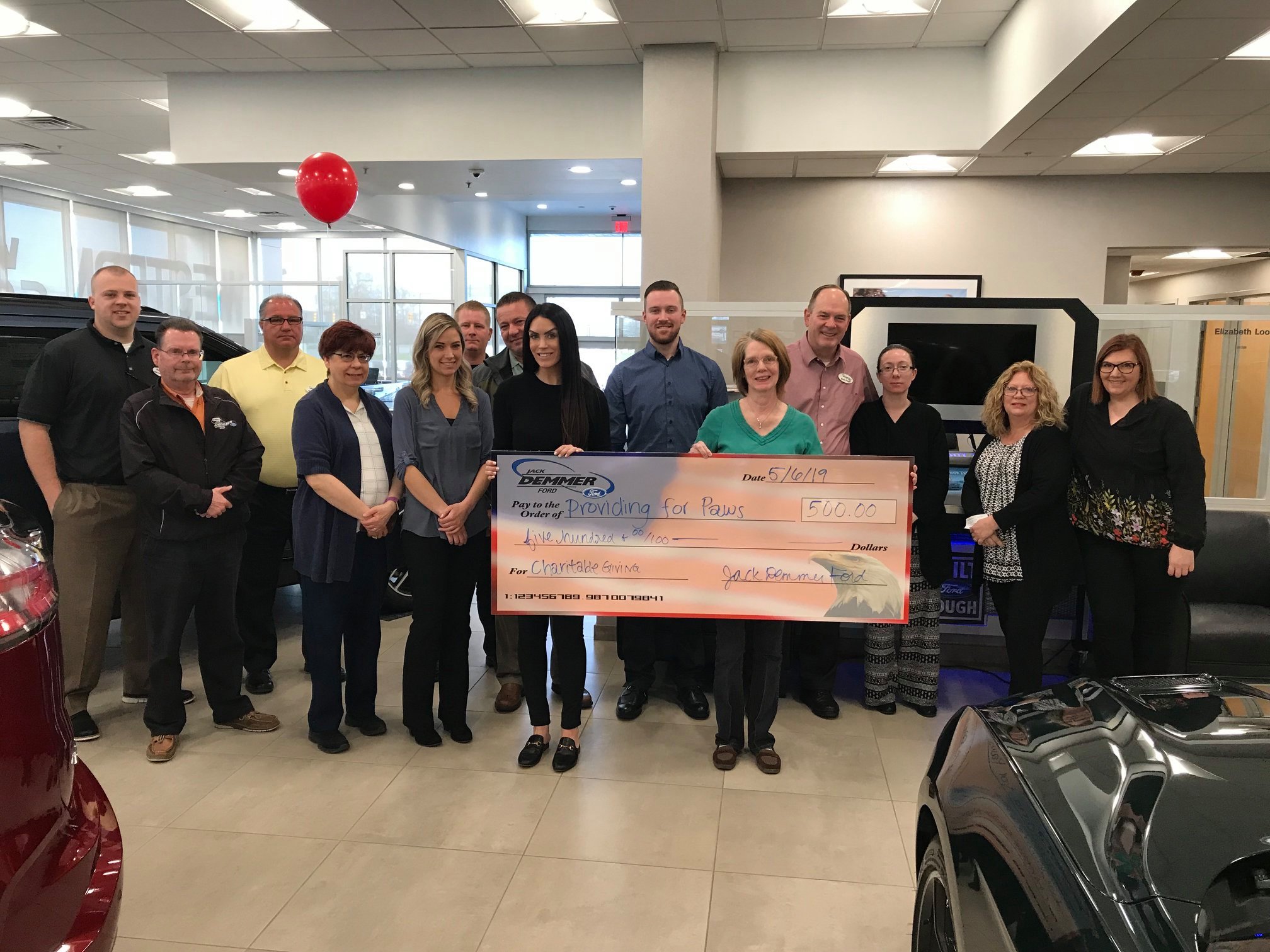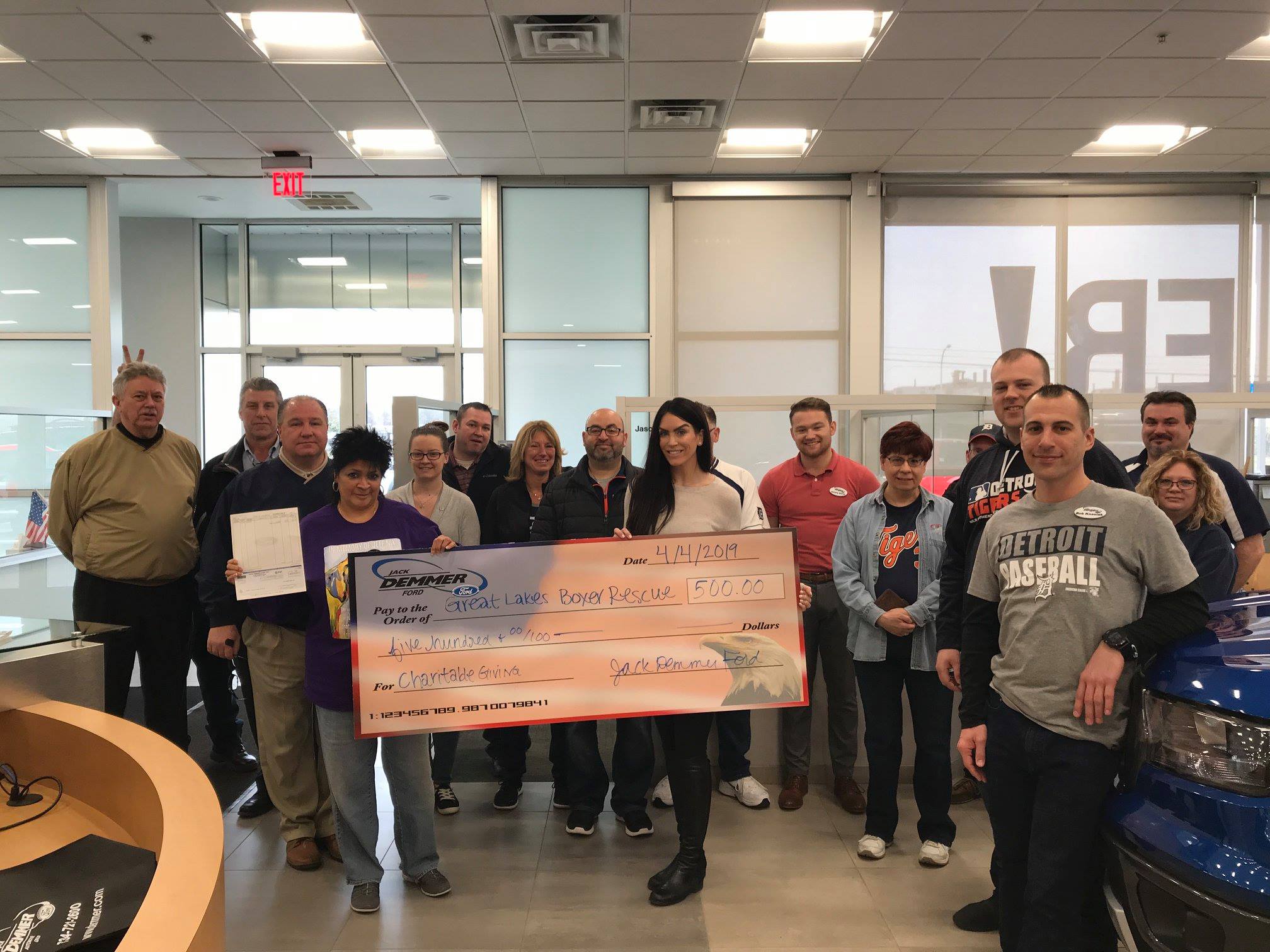 March 2019 Winner: Great Lakes Boxer Rescue
Congratulations to Great Lakes Boxer Rescue, our Charitable Giving winner for the month of March! This morning Laura, a volunteer at the rescue, came in and educated us about all of the work GLBR does in the area. Boxers have a lot of health issues and are abandoned often. Through their efforts they hope to enhance the lives of people as well as dogs by educating people about boxers & by taking care of all of their medical needs whether physical or mental. Our donation will go towards paying medical bills for the dogs they take in.
February 2018 Winner: Tail Waggers
This morning we presented our February Charitable Giving winner, Tail Waggers 1990, with a check for $500. Tail Waggers provides affordable animal care for individuals who have fallen on hard times. They often cover a portion of their guests' bill to make sure their cat or dog is able to receive the care they need. They have a food bank available at all times for those who cannot afford to feed their pet. Thank you Lori & Josh for coming in with Dodger and educating us on the wonderful care you provide to those in the Livonia and Metro Detroit area. Tail Waggers will be using the money Jack Demmer Ford donated towards vaccines. #charitablegiving #demmerdifference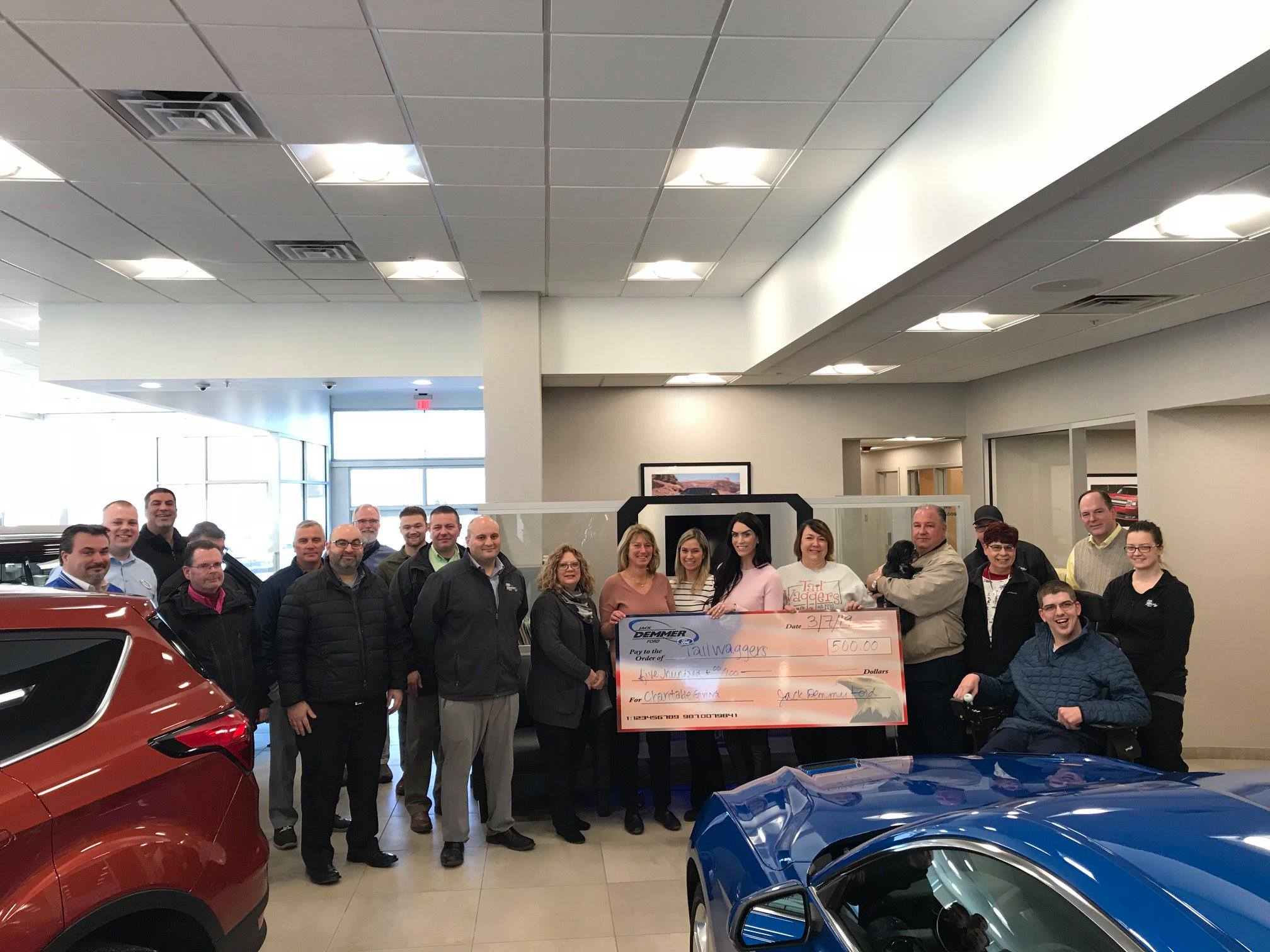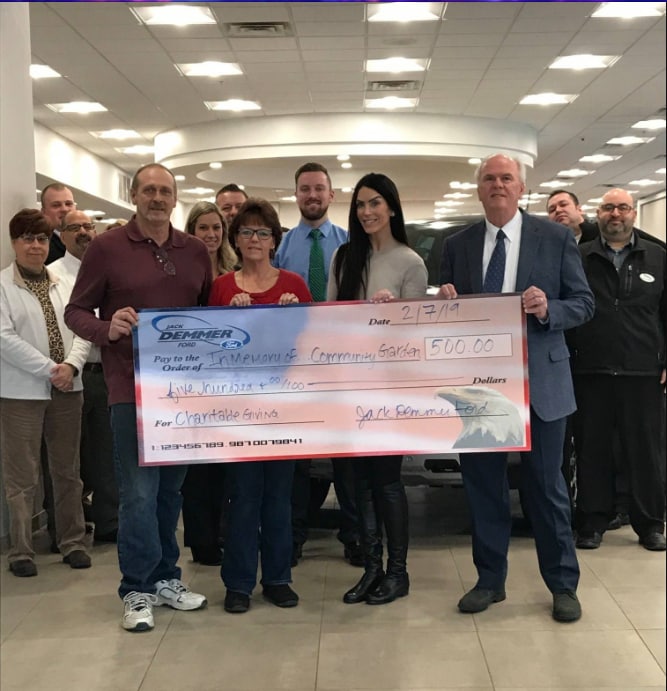 January 2019 Winner: In Memory Of Community Garden
This morning we presented our January Charitable Giving winner, In Memory Of Community Garden, with a check for $500. The Garden is in Detroit just outside of Dearborn & Dearborn Hts and was started four years ago after the couple were greeted by neighbors in need of food & shelter for their family. These neighbors didn't ask for money, they asked for help with basic essentials to live. From that point the couple took action & today are continuing to grow and provide for their community. The last few years 100% of what they have grown has been given 100% back to the community. We are grateful to have the opportunity to learn more about & support this cause. #givingback #demmerdifference
December 2018 Winner: Almost Home - Animal Shelter
In December we were proud to present the Almost Home - No Kill animal shelter with a check for $500 to go towards vet bills for cats & dogs the shelter takes in. Almost Home is always looking for extra blankets, towels, linens etc. Feel free to bring any donations to Jack Demmer Ford and we will get them to Almost Home to help make the animals more comfortable.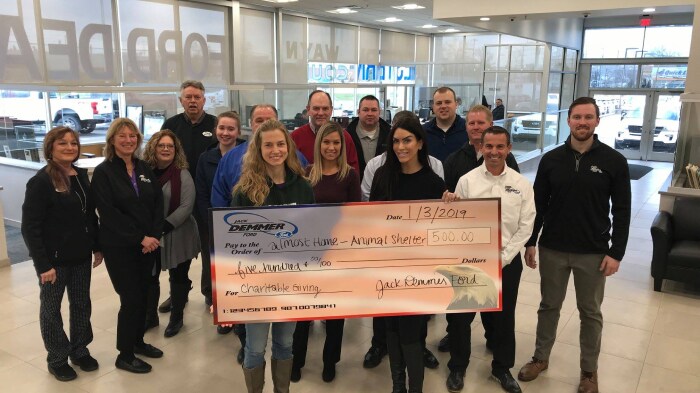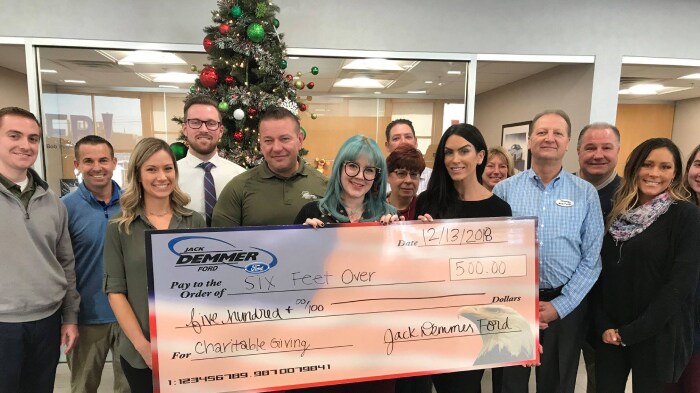 November 2018 Winner: Six Feet Over
In November we presented a check for $500 to our charitable giving campaign winner, Six Feet Over. Six Feet Over is a local charity that focuses on mental health, most specifically taking care of suicide survivors. Their mission is incredibly inspiring and we encourage you to "like" them on Facebook and check out their website.
How to Participate
If you want to be a part of Jack Demmer Ford's Chartiable Giving Campaign the steps are easy:
Get nominated on the Jack Demmer Ford Facebook Page
Make sure to like our page
Nominations are opened on the 1st of each month and closed on the 15th
The charity logo must be submitted through Facebook (if one cannot be provided, a logo will be created)
Voting is opened on the 16th of the month and closed on the last day of the month
The award is based on votes placed in support of the nominations
Once votes are tallied, the winner will be notified via Facebook and will be contacted to set the date and time of giveaway.
To learn more about the rules and process of the Chartiable Giving Campaign, visit the official rules page.
View Rules
Meet our Team